"Little Glasses Marina is an excellent marina on beautiful Lake Texoma…"
We are a full service marina offering many amenities to fit all your lake time needs. We are dedicated to providing you with the best in marina services, food, entertainment, and all-around customers service on Lake Texoma.
Boats, Food, Fun, And Entertainment
Little Glasses Marina is fun and relaxation for everyone.
Satchel Paige once said "At the lake I just sits and thinks, sometimes I just sits" Little Glasses is that kind of place where you can sit and think or just sit.
Little Glasses Marina is one of the most pristine and beautiful getaways on Lake Texoma. Little Glasses is located on the northern end of Lake Texoma on the beautiful Little Glasses Bay.
Our beautiful tree-lined RV park and our electric units are a wonderful place to sit and relax. Our RV sites have water, electric and sewer, all have 30 amp service and some have 30 and 50 amp service. Every rental unit has a fully equipped kitchen, satellite TV, central air and outdoor grills.
We offer a full-service marina and maintenance shop, wet and dry storage rentals, food, drinks, lodging, Lake Homes and so much more!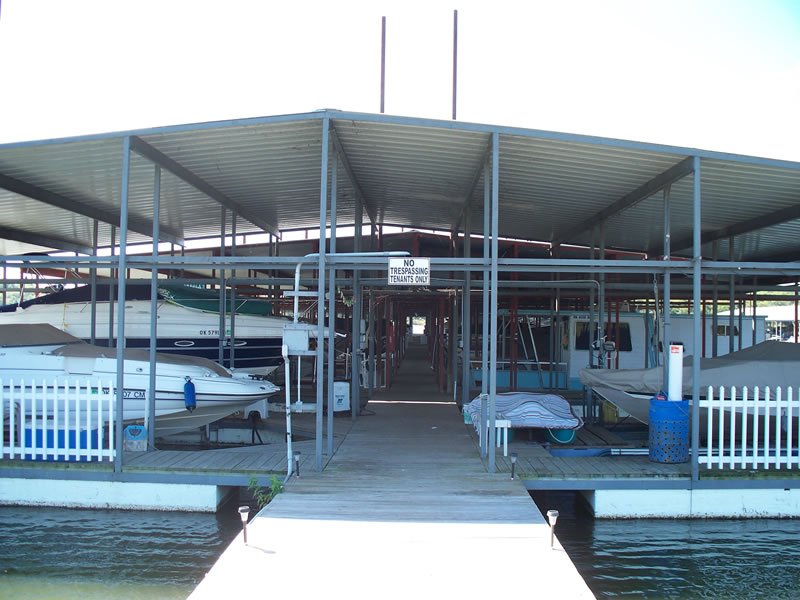 Our beautiful Little Glasses Bay is the finest water playground on the lake. So come on, grab the wake board, tube or skis, let's get wet. Our beautiful shorelines allow you to just enjoy the day or you can find treasures from the past with our abundance of fossils. You can just take a walk and see our wild deer, turkey, or just might see a bobcat. We have some of the finest striper fishing to be found anywhere, right here, with excellent guide services. If you like catfish this is the place to put a hook in the water. Try one of our BBQ or deli boat lunches from our famous Margarita's Deli. There are 3 golf courses within minutes, and shopping just around the corner.
It is just a short hour and a half from Oklahoma City, Oklahoma or Dallas, Texas on Interstate 35. We have an excellent paved runway just minutes away.
So when you are looking for the perfect place on the water, make sure you come to Little Glasses. Little Glasses where you do what you want to do, not what you have to do.
Boat Ramp
Boat sales
Boat slips
We Offer New, Used, And Rental Boats. Little Glasses Boasts A Large Boat Ramp For All Our Boaters' Convenience, And Covered Boat Slips In Multiple Sizes including dockominiums.

Marina, Boat Slips, Rentals, New And Used Boats. If you're ready to get out on the water, this is where you start!
We offer various types of modern lodging, and traditional accommodations as well.
Little Glasses features a full service maintenance and marine shop for most boats and personal watercraft.
Lake Lots are available for ground lease. Learn More about what it's like to have a Lake Home at Little Glasses!
Our gas dock is full service, and our convenience store carries everything you and your boat need for a great day on the water.

Guided Lake Texoma Fishing Tours are provided by our professional fishing guides. Striper and other Bass fishing on Lake Texoma is excellent!
We're Here To Make Sure Your Time Here With Us Is Exceptional. Please Let Us Know Of Any Questions Or Requests You Have.
13443 Parrot Head Lane, Madill, OK 73446
Email: info@littleglasses.com